Day 6 – Monday 6th January 2014 – Weights Session.
My training program has needed to take a necessary change of directions, the first of what I am sure will be many, due to the slight calf injury I sustained last Friday. I decided that it was important to me committing to completing a gym session rather than taking a day off but did not want to risk damaging my calf further by doing the scheduled cardiovascular workout. Instead I opted to do a weights session. Normally I would be cautious about a weights session on a Monday with an Indoor Soccer game on in the evening, however this was not an issue due to me not playing tonight's game because of needing to look after my daughter.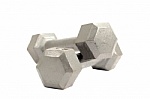 My body still hadn't fully recovered from my soreness from my session on Thursday last week, I was keen to give everything I could to the session. I arrived at the gym just after 7:00am and headed for the bench press. I completed 3 sets, the first 12 repetitions on 40kg as a warm up before a set 0f 8 and set of 6 on 60kg; my left pectoral muscle felt quite tight and sore, I will need to be aware of this going forward.
I moved onto the inclined press using 15kg dumb bells, I completed 3 sets of 12 repetitions. The next set of exercises I worked in rotation, each completing three sets between a Military Shoulder Press (15kg dumb bells) and biceps curls (10kg dumb bells); the last set of each of these I found painful, yet doable.
The session continued with a rotation of three sets of shoulder flys (10kg dumb bells), triceps extensions (7.5kg dumb bells), my body was starting to feel tired at this point but I managed to get out the three sets. To finish I completed a rotation of bicep curls (17.5kg bar bell) and triceps dips.
My body felt quite tired by the end of the session and it has taken me a considerable amount of time to recover today. Tomorrow I will do another session; I am not sure what it will be as of yet, perhaps a light cycle for 30 minutes. I am keen to keep up the routine throughout the month of January to set things up for a successful remainder of the year.