Day 3 – Friday 3rd January 2014 – Cardiovascular Session.
Today marked the beginning of my scheduled cardiovascular workouts for the year. Although feeling quite sore from yesterday's weights workout I was optimistic that today's session would be a good one.
I arrived at the gym just before 7:00am, the plan of attack was to be a 20 minute run on the treadmill followed by a 5 minute ergo and a 10 minute ride to finish. I began my 20 minute run with 5 minutes on 8km/h and felt good so increased the speed to 10km/h. Unfortunately a setback occurred at the 19 minute mark with a twinge in my left calf, not wanting to risk further damage at this point of the year I stopped my run and moved onto the ergo.
I wasn't sure whether I would be able to compete the session due to the calf injury so began slowly on both the ergo and cycle. Neither appeared to be pulling too much which meant I could complete the session.
I am not sure what condition my calf is going to be in when I wake up tomorrow, being on honest it has been quite tight all day. I have been wearing a pressure bandage on it to try and keep some pressure on it and have been trying to take it easy with limited movement. Hopefully come my next session on Monday I will be ready to go, if not then I will have to look at modifying my program until it is ready for me to run on again. I am not going to let this be a setback to me reaching the fitness goals I have set for myself for New Beginnings 2014.
It would be possible for me to feel a little dejected from this set back, the last 24 hours has seen me receive an amazing and very unexpected present. I received a tweet from HBF WA in response to my post yesterday into my fitness goals for 2014, they have given me a gift in the form of a gym pack to help me reach my goals.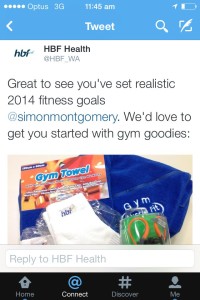 I returned home from my walk with my wife and daughter to find the present on our front door step; inside was a gym towel, set of fitted headphones and two pairs of gym socks. This unexpected gift is such an encouragement and I am looking forward to using these over the year ahead.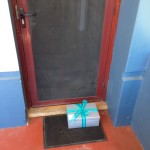 Tomorrow is an unscheduled exercise day, I know that as the year goes on I will start writing posts less frequently; I will do my best to write at least one a week. As New Beginnings is about more than just exercise, there are a series of goals across every area of my life,  may use Saturday and Sunday as an opportunity to do an overview of the entire week and how I think everything has gone (Saturday) and then use Sunday as an opportunity to outline the areas I am hoping to improve. I know that the goals I have set myself I will not achieve immediately, they really are about a lifestyle shift to not necessarily be busier but utilise time more effectively, continue to grow and develop into a better Husband, Father and Man in every area of my life.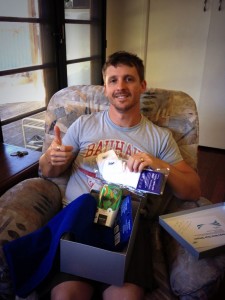 Bring on the challenges ahead!