Day 2 – Wednesday 2nd January 2013.
Today I was really keen on following up on the good start I made yesterday with the run to see in the New Year. I am aware that if I don't fully commit to training every day from this early stage in the year than I will have considerable difficulty later on (plus I would love to be able to get to the end of the year and to have not missed a day).
The problem I was facing with today's session was that I was on a strict time limit due to being given free tickets to the 7th session of the Hopman Cup and needing to catch public transport into the city. Perth's public transport is very average and quite unreliable so I needed to give myself plenty of time to be able to be in by 9:30am to meet my friend who I was taking along. A secondary problem I was facing was that I have developed a significant blister on yesterday's run which had popped and I was a little reticent about aggravating the area.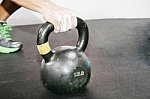 I finally fought off my demons and committed to a shorter session consisting of a 10 minute run, 10 minute row and 10 minute cycle. I arrived at the gym and felt quite sore as I got onto the treadmill to run. The blister on my foot was very sore whenever the shoe rubbed against the spot, I ignored the pain and began my run. After a few minutes the pain from the blister subsided and I continued to increase my speed from the starting 7.5km/h to 10km/h each for 5 minutes.
I headed onto the rowing machine for my 10 minute row, as with the treadmill I wasn't interested in pushing myself too hard but wanted to get a decent workout. I began at a slowish pace with a stroke rate of 29 strokes per minute and a 500 minute split of 2 minutes 14 seconds. At the 5 minute point and again at the 8 minute point I increased the intensity and had completed 2.25km by the 10 minute mark, I think my goal for the next session might be to try for over 2.4km in 10 minutes.
To finish the session I headed to the cycle and began my 10 minute ride. I copied the format used the other day with alternating every 2 minutes from 6 resistance back to 3 resistance. i managed to ride 4.8km in the 10 minute time frame.
I felt quite satisfied with the quality of the session today, whilst the length wasn't as long it did feel like it was good quality and I do feel stronger. One side point is that I think I will start putting a band aid on my blister, the excess rubbing has caused a significant amount of bleeding from my heel. Hopefully a band aid will stop some of that bleeding (a little).