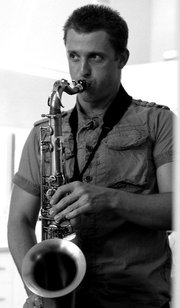 My name is Simon Montgomery and I am a professional musician who lives in Perth, Western Australia where I was born and raised by my parents with my older brother and younger sister (yes I am the middle child – and I love it!). I am married to the most beautiful woman in the world, Melissa Montgomery, and enjoy sharing my life and all the experiences in it with her completely and totally – she is my best friend, advisor and support all at the same time as being SUPER HOT! I am a Catholic, my faith and relationship through His Son Jesus and His Bride the church, is of the highest value to me and I hope overflows into every area of my life as a man.
Anyone who knows me comments on my passion for life and wanting to get the most out of every opportunity that I am presented in. Whether it is growing in my profession as a musician, teacher or music manager, spending time with family and friends, travelling, working on leadership and self improvement or growing deeper in my knowledge and understanding of my Catholic faith I want to be known as a man who is always living life to its fullest potential.
I spend my time working as a musician across many facets of the music / entertainment industry including performing with local Perth bands including Odette Mercy and her Soul Atomics, Askari Afro Beat Orchestra, The Pimps of Sound (an electronic drum and bass band) and performing with my own jazz quintet and trio. I have also been the musical director of my own jazz big band, St Thomas Big Band, for the past three years. This band is made up predominantly by ex-students of my old high school, Aquinas College, and has performed in places including the York Soul and Jazz Festival in 2009. In all of these bands (and others where I called in as a session musician) I have been lucky enough to perform, support and record with artists including:
The Hoodoo Gurus, Seal, Menahan Street Band, Alice Russell, George Cables, James Morrison, Don Burrows, Fred Wesley.
If you're interested feel free to check out my full biography.
Predominantly I am booked as a saxophonist for my gigs although I also have performed many shows professionally on the other instruments I play including as a keyboardist and backing vocalists (Animal Jam). Being a woodwind player has lead me down the path of becoming proficient on a variety of woodwind instruments to compliment my saxophone skills including the clarinet and flute. Both of these instruments I have used professionally in various musical theatre productions including: The Pyjama Game, Bye Bye Birdie, My Favourite Year, Kiss Me Kate, Singing in the Rain, Thoroughly Modern Mille, Blood Brothers, Grease, A Funny Thing Happened on the Way to the Forum, Crazy for You and Camelot. I have recently added to my repertoire of instruments the bassoon and oboe, my aim to learn proficiently every woodwind instrument.
For more details into my life as a musician and also how to book me for an event check out my musician page, similarly, to listen to excerpts of songs featuring me check out my music samples page.
As well as being a performer and session musician for recording my love of music has lead to me teaching in the school system in Western Australia. Currently I am the woodwind reed tutor at both Aquinas College and Mater Dei College. I teach the saxophone and clarinet predominantly although I have also taught the oboe, bassoon and flute at various times. I also run a number of bands in both schools, for more information on this plus the possibility of booking me for lessons please check out my teaching page.
I own and operate my own business, The Wedding Music Planner. It's a music management and booking business that was formed with the aim of helping brides and grooms looking for wedding ceremony music or reception entertainment to be able to connect easily and wit a minimum amount of stress to trained professionals who have experience in the wedding music industry. The business has now grown to provide entertainment solutions for more than just weddings including private functions, corporate events and even in restaurants including The Beau Rivage (Gloucester Park). So far I have catered for needs for DJs to live bands / singers / classical and jazz ensembles and vocalists (including choirs).
I do believe in God and am unapologetic about being Catholic and wanting to practice my faith to the fullness of its richness. I spent over ten years as the Musical Director of Impact Catholic Ministry and five years as the Worship, Creative Arts and Technical Productions Leader of both Impact Catholic Ministry and later the Catholic Guy Ministry. I have written some Catholic Liturgical Music for use in mass in a modern style both whilst a part of Impact Catholic Ministry and since leaving. I am passionate about the Gospel being presented in a way that is understandable in the messed up world we live in today whilst continuing to stand firmly rooted in the foundations and richness in history, traditions and teachings of the Holy Roman Catholic Church.
Check out the Church Liturgical page for more information and, in time, resources to help encourage people to serve locally in their parish music ministry.
I love spending time travelling and have been fortunate to travel to many places with my family, friends and work colleagues for both work and fun. So far I have travelled throughout Australia and have spent time in most capital cities (apart from Hobart), backpacked with my family throughout Europe when I was 12 years old, visited and skied in Japan for two weeks with my brother and sister in law, visited New Zealand twice (once on  a hockey tour and once on a music tour), Bali, Singapore and last year I travelled with my wife to Kota Kinabalu in
Malaysian Borneo for our honeymoon. Inside my home state of Western Australia I have spent a lot of time down in the south-west including Bussleton, Dunsborough, Margaret River and Albany and driven up as far as Exmouth and Coral Bay. My wife and I were lucky enough last year to visit Karijini National Park in the Pilbara region of Western Australia with my parents. Both my wife, Melissa, and I hope to do a lot more travelling over the course of our life. It is always amazing to see the diversity of culture and the wonder of the natural creation in the world around us. I hope to continue to write posts on various travel experiences that I have to share some of these with you, hopefully to inspire you to think big and outside of your little part of the world.
 I'd love to connect with you and hear more about your world and what inspires you as you try to be everything that you have been created to be.
I will look forward to meeting you soon!
Monty