Day 64 – Tuesday 4th March 2013.
The last month has been nothing short of a disappointing effort in my overall training regime. After having started the month brilliantly with not missing a day during the month of January I did not train at all throughout all of February, not one run! There are many reasons behind this occurring, the most significant being a long list of injuries. Over the last month I have had a swollen ankle for over a week and a half from someone stomping on me in a social soccer game as well as hip and glute problems. The last few days is the best I have felt physically since January.
All of this aside, I knew it was important for me to now get back into some sort of routine this week. Our baby is due in the next week and if I don't get on top of training now, as a friend pointed out to me, things are just going to be more difficult later on!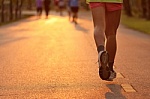 This morning I decided to ease back into it with a 4.5km run, I was not out to break any records but rather just get it done. I awoke this morning at 5:29 am, my alarm was set for 5:30 so this was great as I didn't disturb my wife who was still asleep in bed next to me. The morning air felt really fresh and I was looking forward to hitting the pavement.
By 5:45 am I was beginning my run around Lake Monger, the sun had only just risen by this stage. I love the feeling of an early morning run as the sun is just coming up or even starting when it is dark and witnessing that moment of transition from night to day. There is just something about witnessing the entire world wake up to a brand new day, an opportunity for redemption and to start a fresh on many new adventures.
The run itself was quite enjoyable, I didn't really time myself today although I would say it would have been approximately 25 minutes to complete the circuit. This isn't the best time int he world but I am happy with how my body felt and I know that if I can continue to get up and get on with my running that this time can very quickly come down.
This year I think one of my goals should be to run in a few races, not to compete but rather to measure my development and hopefully hold me accountable. The first I am thinking of is the HBF run for a Reason. It's not too long only being 14km so it shouldn't be too much of a challenge for me.
I don't want to get ahead of myself but I am hoping that this month will be a much more successful one for exercise and committing to my regime. I suppose all I can do is make sure I get up int he mornings when my alarm goes off and give it my best…let's see how that goes once the baby arrives!