Day 221 – Monday 31st December 2012
This morning's session signalled the end of my Fitness Training 2012 regime, to complete the year I hit the gym to do a cross-training regime.
I am quite happy with how the session went, especially considering that when I got up this morning I didn't overly feel like completing the session. Perth's heatwave has continued and living in a house with no air conditioning meant that the outside temperature of 40 plus degrees last night was really like 45 degrees inside the apartment. The result of these conditions was a night of disrupted sleep with me waking every couple of hours from only a light sleep to turn the fan back on and in a pool of my own sweat (not very pleasant at all).
I finally did manage to pull myself out of bed at 7:00am (an hour and a half after when I had planned to get up) and due to the temperature already being over 35 degrees I decided to head into the gym to do a cross training session rather than complete a 7km run.
I arrived at the gym a little after 8:00am and headed for the treadmill. Starting on 7.5km an hour I did 5 minutes before increasing the speed to 10km/h for 10 minutes and then finally 12.5km/h for the last five minutes. After 20 minutes I had run 3.31km which would equate to an average of  kilometre every 6 minutes and 3 seconds. I was feeling nicely warmed up by this stage and headed to the rowing machine to complete a 10 minute row. I had decided that I still wasn't going to push myself too hard on the row and so set out keeping my stroke rate at 30 per minute and an average 500m split of around the 2 minutes and 15 seconds. For the first 8 minutes I managed to maintain this before increasing the work rate for the last 2 minutes to have completed a distance of 2,247m inside the 10 minute timeframe.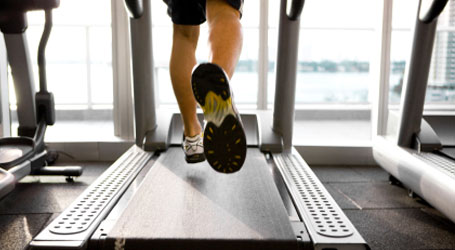 My legs were beginning to feel fatigued from the work put in across the running and the rowing as I headed onto the cycle to complete a 15 minute ride. I alternated the resistance on the bike in two minute intervals beginning with the resistance on 6. My legs were quite fatigued and I found it difficult to sustain a speed above 90 rpm on the level 6 resistance. By the end of the 15 minutes I managed to have ridden a distance of 6.89km, whilst this is a long way beneath my personal best I am aware that I am still only just getting back into the routine.
To complete my workout I moved over to the stretching area and completed three sets of 50 sit ups using a 7kg medicine ball to provide extra resistance. After this I spent a good 10 minutes stretching out my leg muscles to try and help in my recovery before tomorrow's planned run in the morning.
As the year draws to a close and I look back on my training in 2012 I can honestly say that I have learnt a lot about myself. There is a bit of disappointment that I did have an end of the year where I didn't really commit to my training, as a result of this I have put on weight and feel incredibly unfit. I am excited though about the prospects moving forward into 2013, the past week has been enjoyable to start to try and get some sort of routine back, I do have a long way to go but feel like it is possible. I am still considering the goals I want to set for myself in fitness and life in general in 2013 as there are many exciting factors outside of control that will come into play. Do I want to try and run a a marathon come August, or do I want to change my regime a little and include cycling and swimming to push for a triathlon? My main focus on training is to try and have a healthy lifestyle, I want to feel good and hopefully extend the length of my life so that I will have more time to spend with my beautiful wife and the children we will have in the future. Whilst these are my focus and main motivation I do know that it is important for me to set some short term goals.
I feel 2013 is going to be a great year for me and my family and friends, on this note I say fair well to the Fitness Training 2012 an hello to my 2013 regime – Pushing the Limits 2013.