Day 199 – Wednesday 17th July 2013.
I awoke this morning to the sound of wind and rain on the roof, the storm from yesterday still hadn't passed the big question is will it be bad enough for me to decide not to run? I got out of bed a little later, 5:45am, and headed through the darkness to the back room to peer out into the early morning to get an idea of weather conditions. The sight I saw was heavy rain, and the trees being battered with high speed winds…not a hard decision to make at all, the run was not going to happen.
Probably at the point many people would tell me to just "harden up" and "get out there and do your run even in the Winter conditions". If it was just raining lightly or looked like it would clear then I would have no problem with doing this, however, I do draw the line at running in the midst of a storm for a number of reasons including, the possibility of sickness which would have a greater effect on my training routine, the danger of falling branches from trees and the chance of slipping over and injuring myself.
I do I find it frustrating when these mornings occur that effect my training regime, it is probably the one thing about Winter that I really am not a fan of. I love the sound of the rain on a tin roof and even the powerful wind blowing through trees, the ability to get warm in winter clothes and the smell of an open log fire would be some of my favourites. It's the only time that I really miss my gym membership, being able to complete a cross-training sessions inside. Possibly I could have completed some exercises using my body weight at home but I injured my right hand a few weeks ago and I know it won't be able to take my weight at this point in time.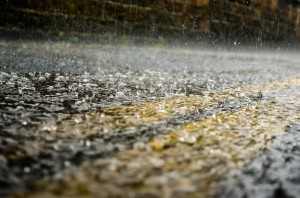 One of my plans is to set up an area in my back shed with a bench so I can get back into doing some weights. My mate Mike Haydon gave me some free weights a few years ago but I just don't have the area set up to use these at the moment and with the amount of work to get done around the back yard this probably won't be a reality until early next year. I guess for now all I can hope is this storm has passed by tomorrow morning so I can get back into a run.
The one positive I can take out of all this is that I still have gotten up and can use this time productively to get some more work done.