Day 11 – Friday 11th January 2013.
I have found that as the week has progressed I have been feeling increasingly tired and have needed more rest / sleep time to fully recover. I think that this is just going to be a temporary state as my body is still getting used to the rigours of my new training regime, especially when combined with two soccer games this week and also moving house at the same time. What can I say, I just don't like to do things by half!
This morning I was hoping to get up at 7:00am so I could get in my full cardio gym session before heading down to Fremantle to meet with a good friend of mine and have a cup of coffee. Unfortunately this didn't eventuate and it was 8:00am before I was out of bed. Immediately I knew that this shortened time period would result in me not getting the usual gym session done and being in Fremantle by the 10:00am meeting time so I decided to modify my session for today. I also felt that my legs would appreciate some respite as I was feeling sorer and tighter than I have done so previously since beginning this new regime.
I arrived at the gym and began my workout just after 8:30am. I started with only 10 minutes on the treadmill and decided not to push myself too hard, this would be the warm up for the remainder of the session. My routine followed its usually course of 5 minutes on 7.5km/h before 5 minutes on 10 km/h, this meant that by the 10 minute mark I had run 1.45km. Throughout the run my legs felt quite tight, especially my left hamstring, so I decided to continually monitor my progress throughout the session the last thing I wanted to do was pull a muscle at this stage of the regime.
My 10 minute row was next, I went into this hoping to try and beat my personal best and row over 2.4km in the time frame. To achieve this I started out harder than usual and after a few minutes settled into 30 strokes per minute with a 500m split of 2 minutes and 10 seconds. I started doing the calculations in my head and realised that even at this pace I would fall short of the 2.4km mark inside the time frame. I lifted my stroke and work rate with my 500m split getting down to between 2 minutes and 2 minutes and 5 seconds, this I managed to hold throughout the remaining row but still missed my target falling short by 100m with a distance of 2.3km coming up right on the 10 minutes. I guess the lesson to learn is that in the early stages I need to get my distance up and not leave everything until after the 5 minute mark!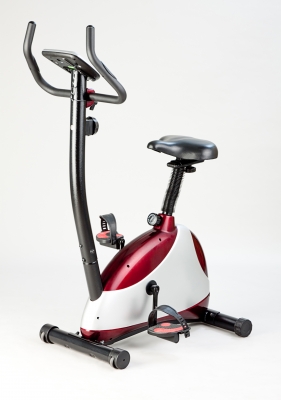 To finish I headed over to the cycle for a 10 minute ride. I kept the same regime of alternating between 6 effort level and 3 effort level and had the goal of reaching a distance of over 5km inside the time limit. My first 2 minutes I did fall behind the pace slightly in only riding .9km, this didn't worry me overly as I always did a slower first two minutes as I built up speed and a rhythm. In the next two minutes I was back on track having ridden 2km inside the four minutes. I decided that I would stretch myself and see what I could achieve, I pulled further ahead int he next 2 minutes and reached the 3km mark by 5 minutes and 45 seconds. I kept pushing myself through to the end of the 10 minutes and managed to ride 6.1km inside this time, a great effort.
Usually at this point I would head over to the mats, stretch and work on my abdominals but I had run out of time. I headed off to have a shower and get changed to go and meet my friend in Fremantle.
I am quite happy with the effort today. Tomorrow's session is supposed to be a run outside however I might not even get to my session due to the amount I still need to organise and pack for the big move coming up. Normally it would be a just get up earlier, but with how tired I have been feeling and needing my energy to concentrate on the packing and moving of heavy objects it might turn into a miss. As my Saturday sessions I think will become an optional extra in my regime as the year progresses I am not too phased, I still achieved five sessions in this second week.