Gig Details:
Band : The Pimps of Sound
Date : Thursday 19th July 2012
Time : 11:00pm
Venue : The Rosemount Hotel, North Perth.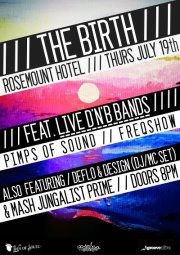 On the 19th of July 2012 The Pimps of Sound, featuring Marnie Kent, performed as the closing act of "The Birth" the official launch of drum and bass music. This event was held at the Rosemount Hotel in North Perth, Western Australia. The evening was well supported with many Drum and Bass fans coming out to support the two live bands and various DJs and MCs performing on the evening including Freqshow, an 8 piece live Drum and Bass band and The Pimps of Sound who finished off the evening with a set of their liquid groove drum and bass styles.
This show was the second show that singer Marnie Kent has done with The Pimps of Sound with the first being earlier in the evening at the Leederville Hotel. Her strong and powerful vocals and commanding stage presence were an welcomed addition to tight outift of The Pimps, being Rob Ferari on bass and Zen Fusion on electric drums, and myself, Simon Montgomery on the Tenor Saxophone with effects and featuring Defyre MCing on two of the tunes.
The set featrued a number of the songs that have become well known around Perth by those who follow The Pimps of Sound including "Cubious", "Undone", "Sarvo" and "Ain't No Sunshine" although all of these had a new flavour with the inclusion of Marnie's interpretation of the vocals giving all songs a fresh new perspective and feel. MC Defyre joined the Pimps for the songs "Undone", "Sarvo" and "Discipline" adding some edge and attitude to a well oiled performance.
A huge thanks to The Pimps of Sound for another opportunity to play with them, the attitude and vibe as well as level of musicianship for these original Drum and Bass songs always makes it a fun and exciting experience. A huge thanks also to the crowd who came and supported the event and the organiser Adam Germano for his generosity in inviting The Pimps of Sound to be a part of a great evening.
The Pimps of Sound next gig will be at The William Street Bird. No date has been set for this yet, stay tuned for more updates which can be found easily via both The Pimps of Sound facebook page and Simon Montgomery facebook page.