View  list of the Catholic Liturgical Music I have been involved in writing here.
The Role of Arts Inside the Church.
My passion and desire is to see God glorified, that every person would know him and be in intimate relationship with Him in their own personal lives. I believe with everything inside of me that the church is the hope of the world, that God speaks to people through His Church and that it is more relevant in today's broken and dysfunctional world than it ever has been in any previous time in history.
I believe that the Arts has such a vital and important role in seeing the Kingdom of God come to pass here on earth as it appeals to the core of who we are as human beings. Art evokes a response in us that opens our hearts and lives to impact and transformed where words will always fall short, as can be explained in the saying "a picture says a thousand words". As the Arts are utilised more inside the church I believe we will see more people impacted and transformed not by the use of Art but by the Holy Spirit working through it so that every knee would bow, eye would see, ear hear, and tongue confess that Jesus Christ is Lord.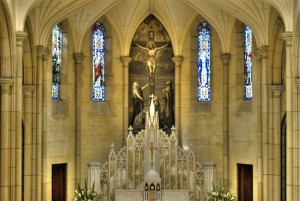 The Role of Music Inside the Church.
 Music is my great passion, I desire to see contemporary music done with a level of excellence and also reverence (heart) inside the Catholic Church. I believe that modern and contemporary music can be presented in a prayerful manner that adds to the celebration of the mass and draws people deeper into experiencing Jesus through the Liturgy of the Word and Liturgy of the Eucharist as the community gathers in worship. I passionately want to see contemporary music being used in conjunction with the sacred music that has come before it to encourage the entire church community to encounter Jesus and be transformed more into His likeness and image.
Unfortunately, one of the biggest objections to contemporary music being used is that it is not prayerful or reverent. This, I believe, is not a necessarily a problem with the style of music but rather a need for greater education and excellence in skill, song selection and sensitivity from the music minister. A degree of maturity also is needed to be able to recognise that the role of music is not a performance or entertainment but rather an encourager for the congregation to raise their voices in praise and worship of God. Basically it is NOT about the musician having the attention but rather all Glory be given to God, they are there to serve the gathered Body of Christ and help them create an atmosphere where they have hearts and minds fully engaged in prayer and worship. My desire is to see music leaders and their teams inside the Catholic Church gain the required leadership and musical skills as well as spiritual maturity through mentoring to empower them to be able to be effective on Sundays.
My Journey as a Catholic Musician / Musical Director / Worship Leader and Songwriter.
I grew up as a Catholic and attended mass with my mum, brother and sister every week. After starting the saxophone I started playing it at the Christmas Vigil service every year. At the age of 17 I stopped going to church, I believed in God but didn't believe in the people inside of it – they were too hypocritical for my liking. After two years I was approached y a good friend of mine who was a drummer and he talked me into playing saxophone at an upcoming event which turned out to be a Catholic Youth Camp. Playing as a part of that band transformed my life, through playing modern and contemporary Christian Hymns I had an experience of Christ Jesus so powerful that I have never been able to turn away from the church since (that event was in January 2001).
I have been so blessed over the past twelve years of my life to have been involved in music ministry inside the Catholic Church in my hometown of Perth, Western Australia. From September 2000 through to December 2010 I was a serving member of Impact Catholic Ministry's Worship Ministry and participated in the organisation and leading of liturgical music  for the gathered Catholic community every Sunday. In my time as a part of the Impact Catholic Ministry Worship Ministry I was appointed as Youth Musical Director from January 2003 – January 2005, Church Musical Director from May 2003 – December 2010, Worship Ministry Director from June 2006 – December 2010 and Technical and Production Ministry leader from June 2006 – December 2010. During my time in these positions we grew the music team to a size of 50 people and the technical production team (lighting, sound and computer) to 20 people.
From 2008 – 2010 in addition to my work with Impact Catholic Ministry I was blessed enough to be involved in the Catholic Guy Ministry, an outreach events based ministry that does work throughout Catholic Parishes in Australia. Over the course of this time I was involved in numerous events in Catholic Parishes as well the city wide events including "An Evening with the Catholic Guy" (October 2009), "Joy to the World" (Christmas 2009), "Victory"  (Easter 2010) and "Mothers Day" (May 2010). An orchestra and choir were planned and organised for these events to accompany the regular modern and contemporary band. Well known songs including "Here I am Lord", "Joy to the World", "Silent Night", "Amazing Grace" and "O Holy Night" were some of the tunes that were prepared and orchestrally / chorally arranged to be used as a part of the evening.
Since leaving Impact Catholic Ministry and The Catholic Guy Ministry at the end of 2010 I have been attending mass at Holy Spirit Parish in City Beach with my wife Melissa. My desire is to see modern and contemporary music used reverently and tastefully inside the confines of the Mass to encourage the congregation to encounter Jesus through the proclaimed Word of God, the gathered community and the Eucharist. Unfortunately, many parishes won't use modern music due to bad experiences with the proficiency of the musicians or the content of the songs. My passion is to equip and encourage the local music ministers with the skill in musical proficiency and condition of heart to be able to serve their local community and lead them towards Christ Jesus present in the Eucharist. I have been blessed enough to be involved with amazing musicians and leaders who have encouraged and mentored me into a deeper relationship with Jesus, below I have included some of the songs, psalms and mass parts that I have written, co-written or set to music all of which have been used to help encourage a congregation in mass before. My heart is to serve the church and encourage people to encounter Jesus, I pray that maybe the below songs can be an inspiration and blessing to you wherever you are at this point in time in your own walk with God.
Praise and Worship Hymns.
Your Majesty – Impact Catholic Ministry (Written by Simon Montgomery).
Your Mighty Cause – Impact Catholic Ministry (Written by Daniel Gee and Simon Montgomery).
*My Soul Thirsts for You – (Written by Simon Montgomery and Melissa Gee)
*The Lord's Prayer – (Traditional Words, Music by Simon Montgomery).
Mass Parts.
*Psalm 103 – Lord Send Out You Spirit
*Psalm 109 – A Priest Forever
*Psalm 8 – How Wonderful You Name
*Psalm 84 – Lord, Show Us You Mercy and Love
*Psalm 121 – Let Us Go Rejoicing to the House of the Lord
Psalm 129 – With the Lord There is Mercy and Compassion
*Our Father
*Pentecost Sequence
(* audio and chord charts to be uploaded in the future).
If you are a music minister serving in a church setting I would love to connect with you, be inspired and encouraged by one another.