Day 3 – Thursday 3rd January 2013.
Today I returned to Lake Monger to complete another 7km run. When my alarm is going off in the morning I still am not feeling like getting up but am forcing myself to push through this apathy knowing the longterm returns will be worth it.
Having learnt from yesterday's session I put a bandaid over my open blister to try and prevent the bleeding occurring. Whilst this was successful it didn't prevent the discomfort from having tender skin as I was completing my run.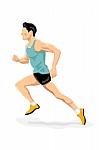 I started the run slowly, the first kilometre was an opportunity to loosen up from my gym session yesterday and try and get into a good running rhythm and form. I was just getting into a good rhythm when for the first time on the run my shoelace came undone. I tried to leave this without stopping however I found it too irritating so stopped to tie my lace – this cost me 30 seconds at least. I then restarted my run and continued for about another kilometre before my shoelace on my other shoe also came undone, I couldn't believe it! This never had happened to me before. Again I stopped and retied my lace nice and tightly – this cost me another 30 seconds.
I continued with my first lap and felt like I was a little behind (due to the stoppages) at the end of the first lap. I kept pushing through and felt like I was sitting a little behind where I had previously been in other runs. I picked up the pace as I passed the marker for the past kilometre and made good time to finish just behind my personal best time finishing in 40 minutes and 40 seconds. If it wasn't for the shoelaces it would have been a new personal best time.
The lesson to learn is to make sure my laces are tied firmer for the next run!