Go deeper, Be pressed, Be stretched and Be All You Were Created to Be
Psalm 1: 1 – 3
"Blessed is the man who does not walk in the counsel of the wicked or stand in the way of sinners or sit in the seat of mockers. But his delight is in the law of the Lord, and on his law he meditates day and night. He is like a tree planted by streams of living water, which yields its fruit in season and whose leaf does not whither. Whatever he does prospers."
I was sitting at home on Monday night beginning to prepare myself for en evening of writing music. This year one of my goals is to be writing modern Catholic Liturgical music regularly, I am every passionate about this area and seeing excellent music that inspires people come out of the Catholic church. Unfortunately whilst having the intention to be doing this every Monday night, as of yet I haven't managed to be very faithful to putting the scheduled time aside to make it a reality.
As a part of my routine I decided that everything in this area should be soaked fully in prayer, so I sat down to spend some time in personal prayer. I had put on some prayerful instrumental music about fifteen minutes prior to this to help get me focused which started to stir in me a feeling that I was about to be challenged spiritually in a way that I hadn't been for a little while. I felt that I was being prompted to make a decision to be stretched in my thinking and the amount of time I was spending in prayer, a sense of needing and desiring to go deeper and about to be pressed, that through all of this was coming a great need of a time of deeper spiritual nourishment.
This lead me into a time of really trying to workout what this would look like, I don't feel that it necessarily means serving harder or more in my local parish or any of those things but something deeper, something that in the short term doesn't appear like a lot but in the long term would have a significant and dramatic affect on not only myself but those around me whom I come into contact either personally or through the work I am trying to do.
I own a house that I am currently renting out and out the back of it is an orange tree. My orange tree would now be five years old, I remember planting it and watching it slowly grow as it tried to establish itself in the hot and often dry Western Australian climate. I recall watching it over the first few years and seeing it start to bear fruit and I remember the first orange I tried to eat from it, really sour! I discovered from this that immature orange trees produced fruit that would not be good for eating due to them needing more time to develop the root system and establish themselves, all the fruit could be used for would be to juice it (and that didn't taste great either). Apparently I would have to wait a few years before the oranges were ready to eat.
Recently I have had a tenant change over and before the new tenants moved into the place I had to go through the house and make sure that it had been left in a suitable condition. On looking at the orange tree (now five years old) I noticed that the tree and its fruit had unfortunately fallen victim to the exceptionally hot and dry summer that we have had in Perth. The tree had not received enough water and all of the fruit had spit and spoilt as a result of this. This was of disappointment to me because the tree still had not managed to reach it's full potential to yield good sweet fruit, this time not due to being a young tree but rather because it needed more water than it could find for itself. The root system when combined with the lack of rain was not established enough to both provide the nutrition for the well being of the tree and also produce fruit on the tree, it had enough only to get by, maintain the status quo so to speak.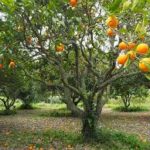 I recall learning in school about plants and the various root systems different plants used to collect the nutrients to not only sustain itself but also multiply through the production of fruit and the seeds contained inside that fruit. In general, the larger plants needed a root system that was much deeper and more intricate as it needed to be able to capture a greater source of water and nutrients over an area to provide for the needs of the plant. Some of the large trees had developed tap root systems, this core root would bore deep down into the earth to draw water from the water table to help sustain the plant in times of water shortage and drought. From this central root system would also come a series of smaller roots to maximise the catchment area. Another benefit to this root system is that it enables the tree to have a great anchorage or supoport structure below the surface to keep the plant from being uprooted in times of trouble such as cyclones and other bad storms. The tree only seems to be as good and strong as the depth and strength of its root system.
My orange tree, unfortunately, did not have this established root system in place but would rather draw from towards the surface from current rains or extra water provided from external and temporary sources (the tenants). This lack of a development of a root system that could sustain the life of the orange tree was probably one of the primary reasons the fruit all split and, unfortunately why it still has not managed to live up to purpose that it was created for, to bear fruit.
The plight of my orange tree reminded me of a part of Psalm 1 and the description of a specific man and what he is can be compared to found in verse three;
"He is like a tree planted by streams of living water, which yields its fruit in season and whose leaf does not whither. Whatever he does prospers".
This description always inspires me, in part because of the prospering in everything part, but I think at a deeper level because of this idea of not being without (planted by streams of living water – which Jesus described himself as in John 4:13-14), yielding fruit when the season is right (not all of the time) and importantly whose leaf does not whither in the winter (when not in season). In other words regardless of the conditions and environment that is thrown this guys way he is the same, unmoved and unshaken. What causes this to be possible? Going back to the tree analogy it has to be the roots! He has become grounded so deeply in something unshakeable that he cannot be moved.
What were his roots grounded in? This can be seen in verse two of the Psalm:
"His delight is in the law of the Lord and on his law he meditates day and night"
It seems that the man described here places his trust in not what can be seen but that what cannot be, an intimate relationship with God on not just a once a day basis but a continual experience throughout the course of his day in every interaction and event. Just as on a tree how the roots system takes years to develop beneath the surface where no one can see them, ever searching and yearning to find water so the man's personal searching and deepening of his relationship with God and searching for that living water in Jesus has led him to being able to withstand the times of heartache, disappointment and sadness that is experienced by everyone as we walk through this journey of life.
In my life the challenge is to put down the roots of my spiritual tree deeper everyday, trusting and building the intimacey of my relationship with God and His Son, Jesus, drinking deeply of His Living Water to be all hat I was created to be. As I do this then all else will fall into their rightful places. Will I still have trials, disappointment and heartache happen to me? Absolutely, but hopefully, through the grace and mercy of God, my roots will be deep enough in Him that I can rejoice in knowing that "I can do all things through Christ who strengthens me!"