Music has always been such a significant part of my life and has had a large role in shaping my life in many ways other than it just being my career choice! In fact, it is very difficult for me to think of an area of my life where music has not played a role in forming the man I have become with my lifestyle, philosophy on life, friendships and even my faith as a practicing Catholic to name only a few of the many all being significantly effected by both my love of music and decision to pursue it as my career.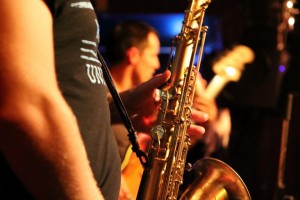 To me music is the one and only complete and universal language, it crosses over every barrier and divide of people form social constructs and classes / status, religions, political viewpoints, language barriers and ideologies. It appeals, communicates and connects to every facet of us as human beings from the rhythm for the body, the melody for the intellect through to the harmony for the spirit or soul. Music has a special place in my heart from a spiritual / religious perspective as well, for more on this please feel free to have a look on the Church Liturgical Music page.
As a professional musician I feel so blessed to be able to make a career communicating my love of music through performance, songwriting / arranging, band leading and recording. My desire is that every performance regardless of the style of music that I would achieve a number of different things:
To have an encouraging and uplifting impact on every person who hears me play or I play professionally with, touching their life in a way that would bring about transformation and change for the better.
To have grow musically and learn from every opportunity I am given to perform, write, direct or record as a sessional artist.
To create something that speaks to the listener and communicates something about who I am as a performer / artist.
To always give my absolute best and conduct myself in a professional manner.
Over the years I have gained much experience performing with various bands throughout the Perth area across a variety of styles including jazz, soul, funk, rock and pop, drum and bass and church music (both traditional and modern). Whilst my main instrument is the saxophone I also have performed professional as a keyboardist, backing vocalist, clarinetist and flautist including in many music theatre productions.
I currently perform in a number of different bands including Odette Mercy and her Soul Atomics, Askari Afrobeat Orchestra, Simon Montgomery Quintet (featuring Ben Hall), Simon Montgomery Quartet, The Pimps of Sound and am the Musical Director for the St Thomas Big Band. I have played at places including The Ellington Jazz Club, Devilles Pad, Funk Club, Good Vibrations Music Festival, York Soul and Jazz Festival Mojos and the Bakery to name but a few. Over the years I have played with and supported many accomplished artists including support to Seal, The Hoodoo Gurus, Menahan Street Band, Alice Russell, James Morrison and many more.  If you'd like more information on my professional music career to date have a look at my biography.
I also have experience in as a session recording musician having recorded with Grace Barbe on her album "Kreol Daughter", Odette Mercy and her Soul Atomics on their debut single "Wait in Vain" (featuring Fred Wesley), The FAT  on "I Know" and The Catholic Guy Ministry on the singles "Hallelujah to the King" and "Your Mighty Cause". Priding myself on excellence I work hard in every session to produce the exact sound and style that the producer is looking for.
I am available for booking as a musician whether it be in a performance capacity as a fill-in (dep), long term band member, pit musician for  musical theatre productions or in conjunction with one of the bands I already perform with. I can also be booked as a session recording musician or musical director.
Connect with me via the website or one of the many social media streams I am actively using to enquire into bookings and a quote for your project.
Listen to some of sample recordings of me on my Music Samples and Catholic Music pages.