Day 2 – Thursday 2nd January 2014 – Weights Session.
My training goals for 2014 commenced this morning with my first weights session for over 12 months (boy am I going to be sore tomorrow). I am hoping to complete five sessions a week throughout the entirety of 2014; 3 cardio sessions (Monday, Wednesday and Friday) and 2 weight sessions (Tuesday and Thursday). My aim of doing these sessions is that I will be fitter and healthier at the end of the year, be able to fit back into size 32 pants (I will be honest in that I am carrying a bit of extra weight around the middle at the moment) and be at my optimal weight of between 76 and 78kg. To help keep me motivated I am planning to run the City to Surf in August, I haven't decided as of yet as to whether it'll be the 12km, half marathon or full marathon; the quality of the training and my progress will probably dictate this.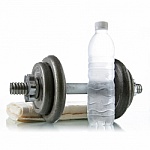 I arrived at the gym at 6:45am, a much later time than I am used to due to being on school holidays and having made the decision to spoil myself with a little bit of a sleep in. Today would mark my first weights session for over 12 months, this has been due to many factors including a hand injury that I have been carrying since May, never good for a Saxophonist, and put simply a sheer lack of discipline but with a New Year comes New Beginnings and I am optimistic that this year will be a good one for my personal health and regular exercise. My session began with time on the bench; 3 sets of 12 repetitions the first with 40kg on the bar before 60kg for the last two. I followed this up with inclined shoulder press; 3 sets of 12 repetitions using 15 kg dumb bells. During the last set of these my arms were already feeling quite fatigued, I know that tomorrow and the next day I will be quite sore as I recover.
At the completion of these sets I continued with a combination approach to reduce the downtime in between exercises. I worked my shoulders with military presses whilst doing bicep curls using 15kg and 10kg dumb bells respectively and completing 3 sets although I did not manage to get a full 12 repetitions out for each set, this was combined with 3 sets of tricep curls using 7.5kg dumb bells. I then did a combination of shoulder flys using 10kg dumb bells, bicep curls using a 17.5kg bar and tricep dips again aiming for 3 sets of 12 repetitions although by the third set I could only manage 8 repetitions.
I am quite pleased with this for a first weights session, there is a lot of room for improvement to get back to where I was over a year ago. I know that for this year to be successful and get everything I want to achieve out of New Beginnings 2014 I will need to approach every moment as taking it One Day at a Time.