Day 219 – Saturday 29th December 2012.
This morning I felt like it was another important step to me getting back into shape with me completing a 7km run around Lake Monger. When my alarm went off at 6:00am the last thing I felt like was getting up, however after some procrastination I managed to pull myself out of bed and got ready for my run. I had thought that this morning I really wouldn't enjoy the experience as Perth is still in middle of a heat wave and the temperature really hasn't dropped for the past three days by more than 5 degrees. I was pleasantly surprised when I began my run that I didn't it find it too hot at all, my legs were quite stiff and it did take me a while to warm up but the heat wasn't really too much of a distraction.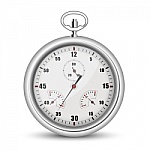 Today's run had the purpose of being a starting point, I wasn't too interested in the time it would take me but more into whether or not I would complete it. I have experienced the joys in the past of pushing myself too early in a training program only to sustain a slight injury that sets back my progress. It was important as I ran to keep this in mind, especially when having the humbling experience of having other runners run past me whilst I was completing my second lap. This was a new experience for me as in the past I have always been the one who has done the overtaking.
Keeping my focus on just completing the run in a reasonable time, and without injury, I managed to run the 7km in 44 minutes and 28 seconds. This is by far not a blistering speed and well off my personal best times but is a start. It equates to running each km in 6 minutes and 21 seconds, I will aim to get this time down to 6 minute kms as my first goal with an aim of smashing it down to 5 minutes in the next few months. A worthy challenge and achievable goal.
As I write this I can't help but reflect on where I had gotten to fitness wise towards the end of 2011 to where I am today and everything that has happened inbetween. Some people would feel demotivated to find themselves in a less fit state than 12 months prior. I can't felt but feel motivated to dedicate myself to getting back there. I can remember from my past experience it isn't about the one session but the accumulation over a period of time and the baby steps that are taken with each session. Today's baby step of getting back into a run will only prove beneficial if followed up by another session tomorrow morning. Here's hoping that I can take that next step as well.