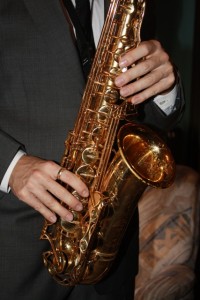 Over my professional career I have gained a huge amount of knowledge and experience as an instrumental tutor and band director as both a private tutor and in a music academy and school setting. I try to pass on my knowledge to my students in a relevant way to the style of music they are interested in and try to provide useful information on various technical exercises that will help them develop the facility they need to excel whether that be in a classical setting or jazz setting incorporating stylistic elements including improvisation and soloing. Some of these insights are available for you to view and apply to your own musical journey for free including:
Solo transcriptions
Scale / technical patterns
Recommended listening lists
Recommendations on books (studies and methods)
Practice / development regimes
Other useful insights.
In 1999 I commenced tutoring saxophone students privately whilst studying a Bachelor of Music (BMus) and the Western Australian Academy of Performing Arts (WAAPA) a degree that I completed in 2002. I have gained experience over the year teaching both privately and in a school situation including:
Mega Music Academy in Myaree (2000 – 2004)
Kingsway Christian College (2002 – 2006)
Mater Dei College (2005 – present)
Aquinas College (2006 – present)
Being a woodwind specialist I have had experience teaching people across all woodwind instruments, predominantly I am a saxophone and and clarinet tutor although I can perform the majority of woodwind instruments proficiently having performed professionally on the majority of them. Instruments I am currently teaching include:
Saxophone
Clarinet
Flute
Oboe
Bassoon
Over my time of teaching I have had numerous students complete Australian Music Examinations Board Exams (AMEB) as well as preparation for auditioning for WAAPA and their WACE year twelve tertiary entrance exams both in the genres of classical and jazz music. Many of the students received high marks including A grades for AMEB (through to grade 6 level), acceptance into the BMus course for Jazz at WAAPA and a student receiving 50 / 50 for his leaving WACE exam on the saxophone in 2010. Numerous students have also had lessons with me to help them prepare for auditions with various school and community bands. Some previous students have also been prepared to sit for scholarship exams for various school music programs. Some of the successful students I have taught have gained music scholarships to Hale School, Churchlands Senior High School and Aquinas College.
As a part of being a tutor in various high schools I have also gained invaluable experience as a band director and have had success in various festivals and eisteddfods throughout the Perth metropolitan area including:
Kingsway Christian College Swing Band – Winners of Open Entertainment Band at Joondalup Eistedfodd (2005)
Mater Dei Saxophone Ensemble – Honourable Mention Catholic Schools Performing Arts Festival (2006, 2007, 2008, 2009, 2010, 2011)
Mater Dei Saxophone Ensemble – Award of Excellence Catholic Schools Performing Arts Festival (2009) Included the play-off for the section shield.
Aquinas College Swing Band – Silver Award at Raphsody in Rotorura Festival (2008)
Aquinas College Senior Saxophone Ensemble – Honourable Mention Catholic Schools Performing Arts Festival (2009 & 2010)
Other ensembles I have tutored include Kingsway Christian College Concert Band, Aquinas College Concert Band, Aquinas College Middle School Swing Band, Aquinas College Middle School Saxophone Ensemble, Aquinas College Clarinet Ensemble and Mater Dei College Clarinet Ensemble as well as being the accompanist for the Aquinas College Junior School Choir.
I am available to book for instrumental lessons or as a musical director for band rehearsals, please contact me for more information and the current available times.