Week 23 – If I was consistent I'd be dangerous!
Well, it's been another disappointing week of practice with only one session possible inside the 7 days. Having said that, it was a really good session today with not too many pitching errors and a greater consistency in tone…and that's after I had played my sax for two hours prior to practising the trumpet!
I really think that if I could get constant at this thing I'd be able to give it a red hot crack!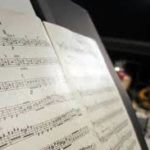 I continued to revise the concepts in the first Accent on Achievement book during this session, trying to stretch to play my C in the 3rd space accurately every time, particularly towards the end of a piece after fatigue has set in. All I can say is that it's slowly getting there!
I have been thinking a lot about ways to get more consistent in the regime, I know that this means needing to do some at school by getting there a little earlier. That means I need to get to bed on time, get up on time and make it priority to do first thing when I get to school (all of these things I'm currently not particularly good at).
I have started videoing sessions again, the aim is still to release these publicly, I am looking at perhaps using vimeo for this at the moment. My reasoning for this is that it looks like I can keep greater control of the content and, in time with me hoping to start releasing online Saxophone lessons for people to pay for I can work on setting up videos to be only shown on my sight and even with restricted access. These parameters are very attractive to me.
Well, it's time for me to do the editing / preparation of the Week 23 Video, always a confronting concept to listen back to my sessions but I also find it so helpful in charting my development.
To find out more about Simon Montgomery click here:
Learn about Simon Montgomery's teaching experience:
To follow Simon Montgomery's Facebook page click here:
Connect with Simon Montgomery on Twitter:
Connect with Simon Montgomery on LinkedIn: